Blog Planning for Photographers – The Struggle Is Was Real!
Planning and creating blog content used to be my least favorite thing to do. It was a huge time commitment, but necessary to share with my clients and audience. Don't get me wrong – I actually love to write (although I admittedly could be better at it), but the planning and execution of the posts was just a pain. And that doesn't even take into consideration promoting my blog posts across the many social media platforms. I know a lot of my photographer friends share this problem. I have heard it time and again: "I wish there was a better way to do my blog planning!" Their complaints were much like mine! Blog planning was cumbersome, time consuming, the follow up social media messages required a full-time dedicated employee, etc. Most of my photographer friends are running similar businesses – we're mostly one-person operations, handling all of the shooting, marketing, editing, content creation, financials, etc. all on our own. Anything that can help save us time and improve our content sharing is a miracle!
I am an extremely visual person. (I mean, DUH! I am a photographer!) I need to see a written, graphical plan for my blog posts on a calendar. I even went so far as to create my own blog planning system. When I outgrew that system, I started using several Google calendars to plan when I should be blogging and sharing on social media, but even then, I had to check the calendar, stop what I was doing, and actually create the content.  This wasn't working for me, so I blogged even less often than I had hoped, because it was just too overwhelming as a part of my overall studio workflow.
So what is the solution?
I needed something that would make it easy for me to plan, create, and share my blog content. Preferably something with an easy-to-use graphical interface for blog planning, and that integrating with my WordPress sites. And, as all of us in the photography understand, it needed to be affordable. So where would I get such a mythical creature  solution?? I looked around, and I asked around. No luck until one day when a friend of mine posted on Facebook about CoSchedule, and my life changed forever.
I admit: I was leary at first. It was not a solution purely for photographers, and of course signing up for yet another subscription was a little daunting. But I registered for a free trial (which I was able to extend just by sharing with my friends – bonus!) and within an hour I was hooked! Setting up and linking to both my WordPress and social media accounts was ridiculously simple, but the true test: would this simplify my life, and would I actually use it?
My Favorite CoSchedule Blog Planning Features
I might have mentioned, I am a visual creature. I need to see things planned out, so I can – well – plan for them. I even still use a paper planner to organize my personal and client calendar. I love the drag-and-drop interface that allows me to see my planned posts at a glance, as well as adjust timing of posts and social media sharing. If you choose to use the task feature, your tasks will also appear on the dashboard calendar. Take a peek: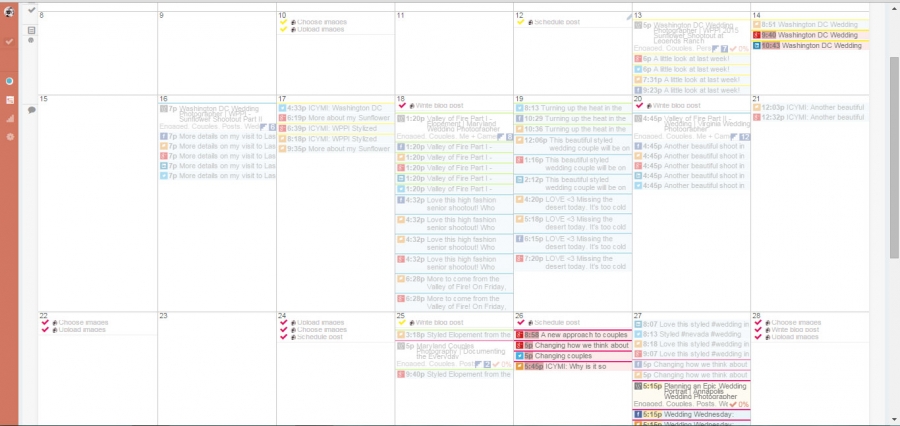 You can see the tasks assigned to each blog post, as well as the articles themselves, and their corresponding social media posts. If a social media message does not post, CoSchedule will alert you in the dashboard, as well as via email – that's pretty awesome, right? Speaking of a failure to post, if you do not complete the blog post, whether you don't write it, or just don't hit publish, you don't have to worry about CoSchedule putting it out there in the world anyway! With the WordPress integration, CoSchedule never publishes unfinished content, or content before you're ready.
Another cool feature: CoSchedule will sync the calendar you see above to my Google calendar, which is helpful when I'm on the go or sharing with my new team members. (More to come on them soon!) I can pull up my Google calendar on my phone and see what blog content is scheduled to be shown this week, as well as the corresponding social media posts. Sweet, right?
My favorite CoSchedule feature? The ability to schedule social media messages. These can actually share your blog content, or you can schedule text or image sharing! (Yup, that is really handy for us!) This function is extremely helpful in reaching my peak audience times. I am not always on Facebook or Twitter when my fans and clients are. If you watch your social media analytics, you may find that you get the most traffic at Wednesday morning at 8:42 AM. Well, I'm not always at my computer ready to send out my message into the world at 8:42 AM. If I am at the computer, I guarantee I haven't had my second cup of coffee yet. CoSchedule will share my content and message when I tell it to, making my life much easier, and saving myself precious time every day. My brand and message also maintains consistency, as I don't have to babysit my content. CoSchedule will reliably share, even months after the original post of my blog content.
Let's face it: as photographers, our schedules are often feast or famine. Especially on the East Coast, we have a "slow season" which is when I tend to take the time to get caught up on the previous season's blog post writing. However, I don't necessarily want to share 10 blogs in a week, when the writing bug has bitten (or boredom has set in.) I would rather distribute that content over the course of 5-6 weeks, or even schedule it to post automatically for me in the busy season, when I usually don't have a lot of extra time to create new posts and content. CoSchedule handles all of that.
There is definitely so much more to CoSchedule than I can even mention here. For photography studios with a team and others in charge of creating content for larger companies, you can use the editorial calendar to manage tasks for your entire team! The social media integrations and possibilities are endless. You can even choose your subscription from affordable plans for any size team. And it's pretty to look at. (Yes, I will say this is important to me.)  You can even track your top posts from your Dashboard. It's pretty gratifying to see which of your posts are getting the most visits and shares! Here are some more screenshots from CoSchedule: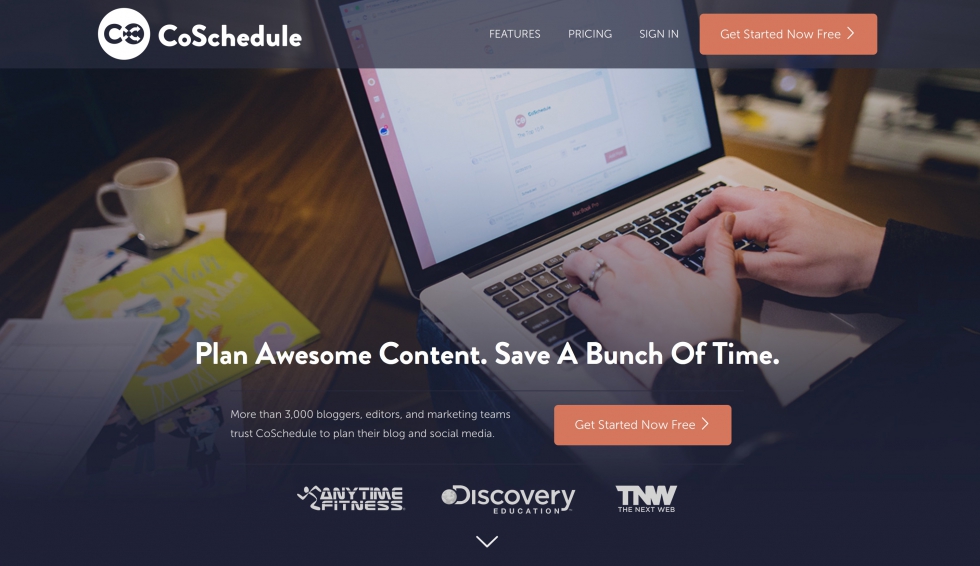 Want to see more on how CoSchedule works? Watch the short video below. Want to give it a try for free? Visit CoSchedule now!
Check out the CoSchedule blog – lots of great content and marketing tips!
Have questions, comments, or tried CoSchedule and want to tell me how fabulous it is? 😉 Let me know below! You can get your free trial of CoSchedule right here!