It's October!!! I can hardly believe it! October is usually the busiest month of the year for family & couples photography. My clients are thinking ahead to the holidays, and want to take advantage of our beautiful fall days. This time of year, it's easy to find the perfect location, but it's a little harder to find what to wear! Whether you are dressing two or six or more, here are some easy tips and ideas for your portrait session! Haven't scheduled your annual portrait session yet? Click here!
Dressing for Family & Couples Photography Sessions
Don't match everyone exactly! No more white shirts and jeans! You want timeless photos, and the perfectly matched polo shirts with khaki pants or jeans will surely make your images appear dated. Instead, look for coordinating colors, and not matching colors.
Don't be afraid to add a pop of color in an accessory! Whether that is a bright scarf for mom, fun shoes for the kids, or something like a statement necklace, don't hesitate to brighten your photos up with an accent color. Some of my favorites are magenta and yellow!
Take it easy on patterns. A few patterns here and there are ok. Texture is actually amazing in portraits, but you don't want to overdo the patterns or clash!
Layers, layers, layers! This is the perfect time of year to layer a cardi over your favorite shirt or dress. You can even layer leggings with tall boot socks and your fave boots. Men look sharp in button down shirts with a sweater vest and sportsjacket. Add a scarf or puffer vest to a more casual jeans look.
Consider both your portrait location and your home decor! Planning on displaying your updated family portrait above the fireplace? If your home is decorated mainly in neutrals, you will want to keep your color palette neutral in wardrobe as well. Taking pictures in a wooded area with lots of yellow and red leaves? Then avoid super bright summery colors and choose jewel tones or browns instead.
Skip all black or all white – especially for children. There is a trend in holiday clothing for children – almost everything is white, black and red. Unfortunately, these colors are extremely severe-looking on most people, but even more severe on children.
Stay true to your comfort zone. Not a cocktail attire kind of couple? Then skip the pearls and find your favorite sweater instead!
When shopping for the kids, try stores that offer "lines" of clothing in a variety of sizes. My favorite is Gymboree, because it is easy to dress multiple kids in coordinating outfits that look great in photos. (Also try Janie & Jack!)
Last tip – for children, please be sure that the clothing and shoes fit properly. What could otherwise be a wonderful, adorable family photo can instantly be ruined by ill-fitting clothing. I understand wanting clothing to "last a while" on your kids, but the annual family photo session is not a time you want to buy a size big! (This is particularly true for shoes – which can also be dangerous when too large! And remember to allow time to break new shoes in!)
If any of you are visual, like I am, here are some great guides put together based on Pantone's colors for the season. While these guides show adult male and female pairings, they offer great guidance to consider for the kids and even high school seniors as well!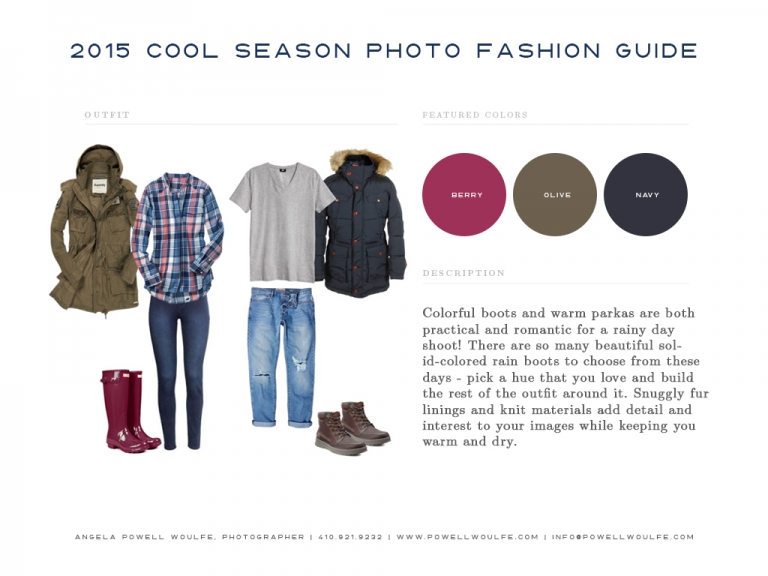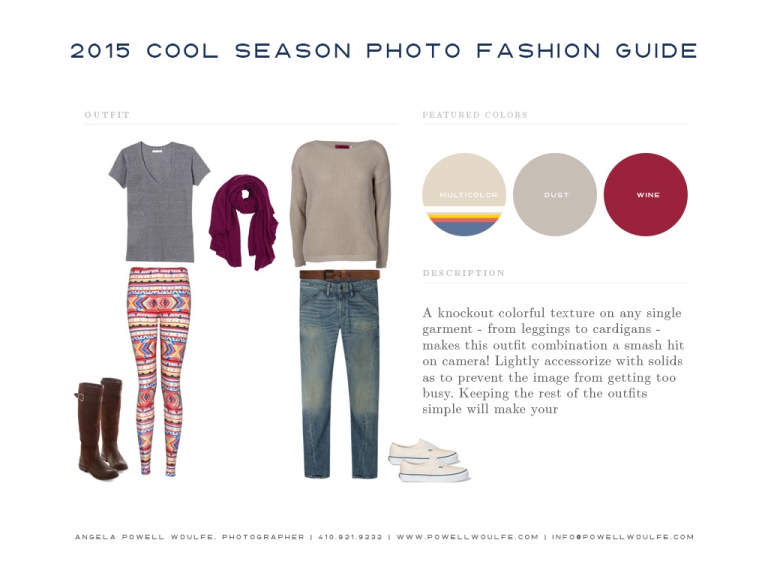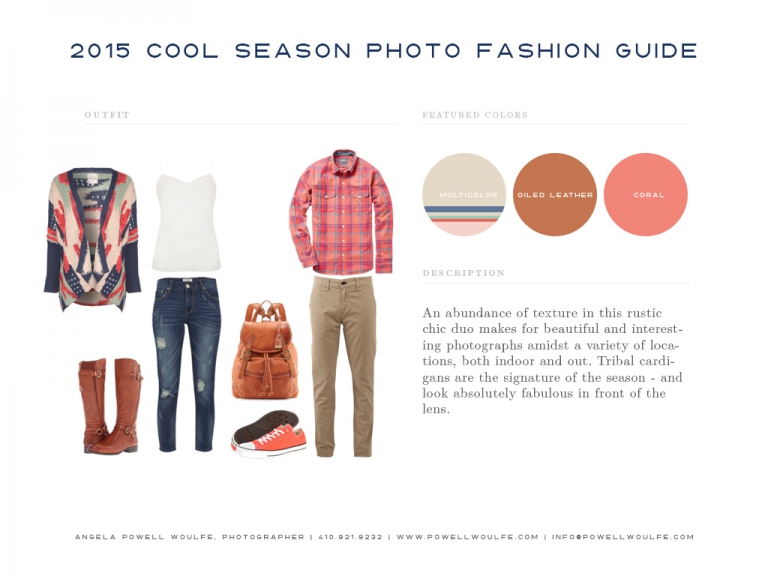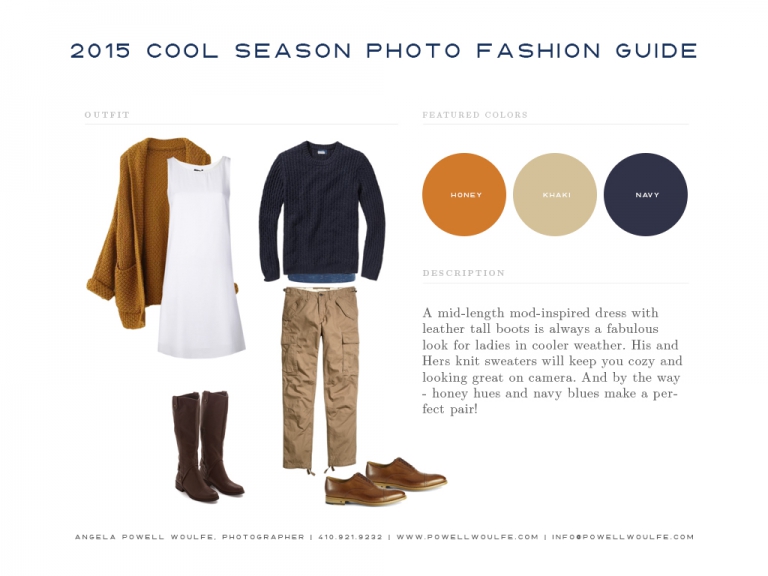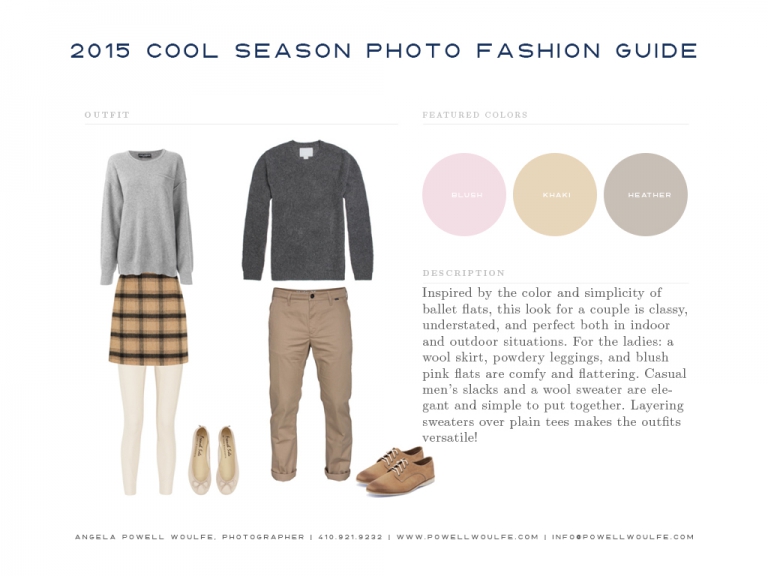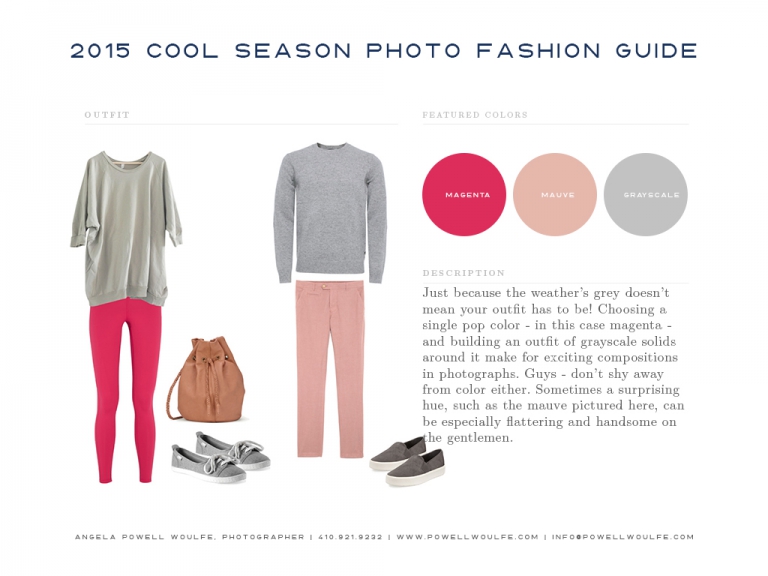 I still have a few spots open for family and couples photography this fall! Contact me today at 410.921.9232 or schedule your session at this link! Currently, there is ONE remaining space for Fall Mini Sessions on October 18th – book it while you can. These limited edition sessions will be held in one of the most beautiful locations in Howard County, Maryland – near my studio in Savage Mill. Every year the color in this spot is stunning, and a popular choice for my clients. See you soon!