August always brings us the worst heat and humidity of the summer. A final tease for a few weeks before the gorgeous fall weather comes back. Traditionally, July and August have been slower months for weddings, until recently. As we have extreme heat in the forecast again for this weekend, I thought I'd share a few quick tips for how to cope with hot weather on your wedding day.
How to Handle Hot Weather on Your Wedding Day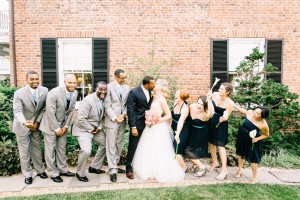 I know that standing out in the 100 degree heat for hours for wedding photos is less than ideal, especially for the guys in suits and the bride in a heavy dress. If you only do one of these things I recommend, make it to hydrate!  It's also a good idea to lay off the alcoholic beverages until the reception (assuming the reception is indoors or outside after sunset.) Lots of water for everyone – bride, groom, wedding party, and yes, your photographer. You might be surprised at how quickly your wedding party goes through water on a very hot day, so I suggest packing a large cooler full of ice and water bottles. Find a groomsman to put in charge of water duty.
Secondly, be sure to communicate with your photographer. This means reviewing your plan for the day, your shot list, and your backup plan. Prioritize your photo list. What is the most important on the list? Is it wedding party photos, family photos, or romantic photos of the two of you? By prioritizing, I can move quickly through the list and you can get back inside to cool off.  Keep your photo locations close to a building where you can duck in for some air-conditioned relief. Any good photographer will already be looking for areas of open shade. When you are outside for photos, keep water handy, look for shade, and consider picking up one of my favorite secret weapons against the heat, a Cool Tie. For $11, they work fantastically! You may also consider moving some of the formal portraits inside as well. Have a backup plan in case it is simply unbearable outside.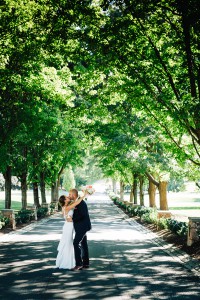 For the ladies, using a good setting powder and spray can help keep shine at bay, but also stop by the local drugstore and grab some blotting rice paper. Usually less than $3 for a pack of 100, and it will keep your faces looking cool and fresh for portraits. Guys – good ol' Gold Bond spray can help with the sweats. (I know, it's gross to think about, but trust me…it's an issue.) A few of my brides have packed little "emergency kits" with cool wipes, extra deodorant, hairspray (for when the humidity gets to hair), and more. Bonus tip: having a tin of mints in your bag can not only freshen your breath, but also has the effect of making you feel a little bit cooler!
My last suggestion: consider having your romantic portraits as a newlywed couple taken at sunset or even at night. It might even be possible to do a morning-after session, as well. Temperatures drop dramatically after the sun goes down, so you will be much more comfortable. You'll have some gorgeous nighttime portraits as well!
I hope those are helpful. Just remember, as a photographer the heat is just as hard on me – particularly when lugging around gear. I just want to give you gorgeous memories from your wedding day! Stay cool this weekend!!!